The Downtown Business Council (DBC) and Council for the Arts of Chambersburg present the August First Friday First Friday celebration, "Support the Arts in Schools", sponsored by Fitzgerald Auto Mall, on Friday August 5th from 5-8 pm in downtown Chambersburg.  For more information, call Lisa Myers at 717-264-1791 or find the Downtown Business Council of Chambersburg and the Council for the Arts -Chambersburg on Facebook.  Artists interested in participating should call 717-816-7568.
Tying the many artistic activities and offerings together along Main Street will be Downtown Chambersburg Inc.'s Window Walk on Main, at 8 storefronts between 115 N. Main and 151 S. Main, featuring murals from the 2015 Downtown Mural Project; and displays of artwork by local elementary school students, located in businesses throughout the downtown.
The North Main Street Founding Fathers parking lot (next to the Main Street Deli) will feature the Gad-Abouts Square Dance Club from 6-7:30pm (with a 10 year old caller!); United Way's 4th Annual "Stuff the Bus" will be there from 5-8pm, offering First Friday participants a chance to donate school supplies for schools countywide; and Coyle Free Library will host a cornhole tournament. Chambersburg's first Community Mural, drawn by Isaiah Zagar of Philadelphia's Magic Gardens, and created by Chambersburg volunteers at ChambersFest, will be in place for all to see.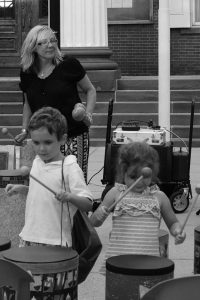 Local musician Tresa Paul will invite passers-by to join her Drum Circle at the Courthouse Plaza from 5-8pm.   Participants will learn basic rhythms, and play with favorite sports jams, rock songs and even commercials, with all the drums and other percussion instruments supplied.   Paul is a local music and art instructor, having taught guitar for the Cumberland Valley School of Music, and led music and art workshops for both CVSM and the Council for the Arts.
Also at the Courthouse Plaza, the Franklin County Photographers Club will set up a participatory photo booth, and the Chambersburg Police Department will offer fingerprinting kits. The Downtown Business Council tent will offer free face-painting for kids and First Friday Bingo cards, which can be played throughout the summer and into September. Bingo participants will visit downtown businesses to complete lines on a bingo card that features the many kinds of opportunities they can experience downtown. All confirmed bingos will be entered into drawings for cash prizes each First Friday, and the grand prize during October's event.
On the F&M Quadrant of the Square, Everlasting Love Florist will be joined by the Cumberland Valley School of Music and the Robotics Program of Corpus Christi School.
On the Southwest quadrant, PA Starz will present tumbling demonstrations and a hands-on kids craft; sidewalk chalk for youngsters will be featured nearby, in front of Central Presbyterian Church.
The Foundry artists' co-op at 100 South Main Street will offer new artwork on view and an interactive chalk wall; in the walkway just south of the Foundry, the Cumberland Valley Christian School's Praise Band will be featured from 5-8 pm.
For more information about First Friday, please call (717) 263-8529