Scotland Campus has two events coming up this summer that are sure to rock your socks off; one may even be quite literally!
On July 17, join members of Petra and Whiteheart at a concert on Scotland Campus with their new group, Union of Sinners & Saints. Tickets prices are as follows:
VIP, 4pm w/ meet & greet: $60
Gold Circle: $40
General Admission: $20, $25 at door
Tickets are available at iTickets.com – http://www.itickets.com/events/361115.
On August 19, before the kids head back to school, join Scotland Campus for a night of comedy for the whole family. David Dean has been making people laugh for more than 25 years, and he is a published author who has also hosted dozens of mission trips to the Dominican Republic.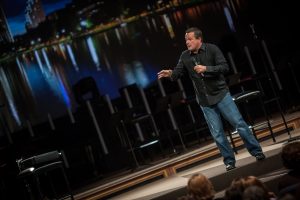 David Dean's early days of training took place at Second City School of Improvisational Comedy along with performing at numerous clubs throughout Chicago.
He and good friend, Craig Gross, co-authored a book designed for parents titled, "Touchy Subjects" which just came out this month on Amazon.
David's latest CD, "Clap For Me" can be heard on Laugh USA, Sirius Satellite Radio, iTunes and Pandora radio.
David and Saint Betsy, his wife of 26 years, live in Huntington, Indiana. They are the parents of two young adults, Alex & Hannah.
Please welcome: David Dean!
Tickets are available on Eventbrite – https://www.eventbrite.com/e/the-comedy-of-david-dean-tickets-26204135274?utm_source=eb_email&utm_medium=email&utm_campaign=new_event_email&utm_term=viewmyevent_button.