Totem Pole Playhouse, Pennsylvania's premiere summer theatre located in Caledonia State Park between Gettysburg and Chambersburg, PA, presents the local premiere of a new stage comedy from the comedic mind of Lewis Black, One Slight Hitch, running from July 9 through July 24.  Written by celebrated acerbic stand-up comic and political satirist, Lewis Black, the play stars one of TV sitcom's most popular Moms, Betsy Randle, known for her role as Amy Matthews, in '90s hit sitcom Boy Meets World, as the Mother of the Bride, Delia. Playing the Father of the Bride, Doc, is Granville Van Dusen, who portrayed Abraham Lincoln in last season's popular production of one-person play, The Memoirs of Abraham Lincoln. Rand Foerster, a long-time collaborator of Mr. Black's will direct the play. Unlike Mr. Black's stand-up material, his new stage comedy contains language which is suitable for the entire family and play is rated PG according to Totem Pole's website. The show is sponsored by F & M Trust and Franklin County Visitors Bureau, as the 2016 season sponsor.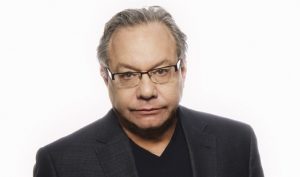 Originally written by Mr. Black in the early 1980's just after graduating from the prestigious Yale School of Drama in playwriting, the Totem Pole production is a new version of the stage comedy recently rewritten by Black that was published in November 2013. Set in 1981, the play focuses on the Coleman family of Cincinnati, Ohio — Doc, Delia, and their three daughters — on the day of their oldest daughter's backyard wedding. The bride-to-be, Courtney is set to marry Harper, a conservative, straight-laced, all-American guy. However, that becomes much more difficult when Courtney's long-time, free-spirited ex-boyfriend Ryan shows up at the front door apparently unaware of the day's significance and won't go away. The result is a zany, door-slamming comedy about stressed-out parents, less-than-helpful siblings and the madness of a wedding day gone amuck from the mind of comedian Lewis Black.
Featured in One Slight Hitch as Harper and Courtney are Jonathan Cable and Kelsey Landon, who are both returning to Totem Pole Playhouse for their second summer in a row. Cable played Jacob in last summer's critically-acclaimed musical Shenandoah, and Landon played love interest Tansy McGinnis in 2015's The Nerd opposite Eric Szmanda from the long-running CBS series C.S.I. Rounding out the cast are New York actors, Brett Dameron as Ryan, Jacey Powers as P.B., and Carly Zien as Melanie.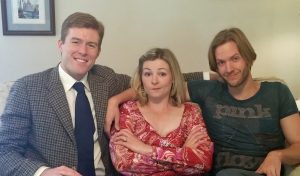 The production opens Saturday, July 9 at 8 p.m. followed by an audience invited reception with the cast afterwards. The show will run through July 24th. Tickets range from $30 to $45 with matinee performances Tuesday, Wednesday, Saturday, and Sunday at 2 p.m. and evening performances Wednesday, Thursday, Friday and Saturday at 8 p.m.
Totem Pole will also continue to offer two special $20.00 preview performances for the show on Friday, July 8 at 8 p.m. and Saturday, July 9 at 2 p.m. with all seats general admission.
Tickets for all regular and preview performances of One Slight Hitch can be purchased by calling the Totem Pole Playhouse box office at (888) 805-7056 or at www.TotemPolePlayhouse.org.