Waynesboro, PA, March 9, 2016: Destination ARTS! activities continue in Waynesboro, PA with art exhibits and special events scheduled at Gallery 50, 42 West ARTS Co-Op, Through the Lens & Beyond, and the Ceramic Arts Center of Waynesboro. The galleries feature oil paintings, watercolors, pottery, sculptures, jewelry, photographs, furniture, and more. All events are free unless otherwise indicated. This weekend, they will be open on Thursday from 1 to 4 p.m. (Gallery 50 and 42 West ARTS Co-Op only), Friday from 5 to 8 p.m., Saturday from 12 to 6 p.m. and Sunday from 1 to 4 p.m.
Special activities and performances are indicated below.
Thursday, March 10, 2016
Gallery 50's Curator/Director Marjorie Tressler will be presenting her weekly oil painting demonstrations from 2 to 4 p.m. in Gallery 50 featuring a large landscape. Tressler teaches art locally and has conducted classes at the Washington County Museum of Fine Arts, where her portraits were featured in a solo show in 1993. She is a former student of the Schuler School of Fine Arts and has studied with several nationally known and prominent local artists over the last 35 years.
Director and co-founder of 42 West ARTS Co-Op, Donna Bingaman, will be demonstrating the portrait painting of "Coria" from 1 to 3 p.m. Bingaman teaches oil painting directly in the studio where students learn how to apply oil paint to achieve a beautiful painting of their own. She has painted many award-winning portraits, five of which are exhibited at the Chambersburg Court House and Annex as well as many others in private homes and collections.
Friday, March 11, 2016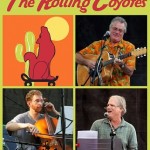 Steve Warner and the Rolling Coyotes will be bringing their unique harmonies and textured instrumentation to Gallery 50 from 5:30 to 8 p.m. The group performs Americana acoustic-based music that touches on many genres, including folk, country, string band, jazz, and rock. The group has performed at many prominent events, festivals, listening rooms, and house concerts. They always assure a toe-tapping, crowd-pleasing good time.
In 42 West ARTS Co-Op, Patric Schlee in playing the flute, drums, and other instruments in a relaxed atmosphere from 5:30 to 8 p.m. The public is invited to join in. While there, be sure to sign up for Schlee's didgeridoo class.
Saturday, March 12, 2016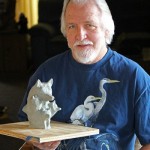 On Saturday from 1 to 3 p.m., 42 West ARTS Co-Op co-founder Denny Bingaman will be demonstrating the steps in creating a cold cast metal sculpture by using a rubber mold that he created from one his original pieces of art work.
Also from 1 to 3 p.m. in the same gallery, Deborah Woods, creator of Boggy Hollow Primitives, will demonstrate her self-taught technique of creating a primitive doll, including how to stuff and sew the doll, and sculpting the face. Woods' pieces have been featured at the Twin Lakes Arts and Heritage Festival, the Westmoreland County Fair, and numerous other Western Pennsylvania venues. All of her pieces are handmade and individually crafted with no two dolls exactly the same.
Ongoing Shows
Gallery 50 is presenting three new shows celebrating the Winter season. The west window gallery theme is "Winter White" featuring Gallery 50's "Muse", "Samantha the Snow Princess", and beautiful winter scenes created by Virginia Hair, Liz Hurley, and Donna Mitchell. The east window gallery is presenting "It's a Wonderful Still Life" with art by Brad Clever, Marjorie Tressler, and David Buckley Good. The main gallery is showcasing "Fin, Feathers, and Fur", featuring artists Carol Wilks and Beth De' Loiselle.
42 West ARTS Co-Op is presenting a winter show called "Let it Snow". Featured artists are Andy Smetzer (photographer), Donna Bingaman (oil painting), Lorie Linthicum (creative pottery), Tom McFarland (painting), Denny Bingaman (photography), Rod and Karri Benedict (pottery), Ed Beard (wood burning), Hollis Mentzer (nature printing), Laura Shindle (painting), Bob North (tinsmithing), Jennifer Caldwell (silver jewelry), and Debra Woods (dolls and folk art).
Through the Lens & Beyond features fine art photography, illustrations, oil and watercolor paintings, and 2-dimensional art. Custom framing, classes, and seminars plus a "Day Rental" photography studio will also be offered.
The Ceramic Arts Center of Waynesboro brings together area potters of all skill levels and ages offering classes, workshops, and pottery sales. Guild members have 24/7 access to the wheels and kiln. For information about classes and special programs visit their website at www.ceramics-nccs.org
Musical performances at Destination ARTS! are supported in part by the Pennsylvania Council on the Arts, a state agency funded by the Commonwealth of Pennsylvania and the National Endowment for the Arts, a federal agency.
For more information, please contact Amy Stine at 304-657-4168 or at [email protected]