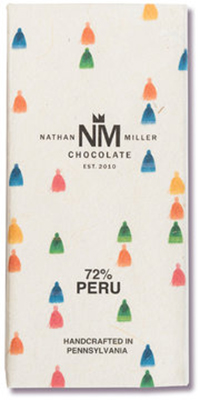 In a blind taste test by the New York Times, Nathan Miller Chocolate had their product, the 72 percent Peru, chosen to be ranked fifth out of the eight most impressive bars of chocolate.
New York Times restaurant critic Pete Wells, ranked the chocolate along with other bars from all over the world. He wrote that Nathan Miller's chocolate was "pure dark chocolate with a dairy creaminess, like dulce de leche swirled with honey-fun, unusual and easy to like."
In an article in Chambersburg's newspaper The Public Opinion, Miller said the news still hadn't really hit him yet.
"It's nice to see the result of our hard work," Miller said.
Miller's business partner and fiance Chelsea Russo, also spoke with reporters, saying that this was "wonderful" news.
"We're really doing what we love. This has been his dream for a long, long time," Russo said.
View the article featuring the local chocolate in the New York Times: http://www.nytimes.com/interactive/2015/12/29/dining/best-chocolate-bars.html